F.C.TOKYO announced that Diego Oliveira was named the MVP of "MEIJIYASUDA J.League Mastercard priceless japan" monthly MVP on April.
Diego Oliveira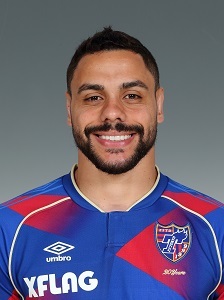 [A review by J.League Selection Committee]
In April, Diego Oliveira showed a big success with six goals in seven goals and a goal rank top. He also marked two goals for the top leaders Hiroshima, and is leading the second place and the strong team with outstanding decision power. In addition, skillful PK technology to remove the timing of opponent's GK, and the keeping power that makes use of the strong body are the same as the player. Universal type FW with a balance in skill and strength was unanimously elected to MVP.
[
Comment from Diego Oliveira
]
I am extremely happy to have won the monthly MVP this time. I think that the family, friends, teammates and staff, and the people involved in the team also won this prize. More than anything, I would like to thank the fans & supporters who support us all day. I will do my best to the match in front of me and I will do my best to contribute to the victory of the team